e Park Pulse is a monthly newsletter distributed to the 157-C schools.  The newsletter features upcoming events, programs and announcments  from the Park District.
Click here to view the December 2018 edition of Park Pulse.
Click here to view the November 2018 edition of Park Pulse.
Click here to view the October 2018 edition of Park Pulse.
Click here to view the September 2018 edition of Park Pulse.
Park Perks – Winter/Spring 2019
Park Improvement News
Heritage Knolls Playground Project
It was 2001 when the Heritage Knolls Playground Park was developed. Playground equipment generally has a useful life of 15-20 years. After that time it is difficult to purchase replacement parts. Additionally safety standards can change making it necessary to update equipment.
The Heritage Knolls playground equipment was removed in late August. With a little push back from Mother Nature, the project was finished in October. The equipment that was removed was donated to "Kids Around the World", an organization that repurposes equipment to underserved areas in the US and underdeveloped countries. Director Hassett said "it was good to know that equipment could be repurposed."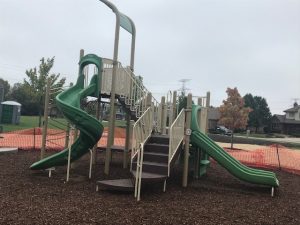 The equipment was designed from feedback provided during community meetings. The new park includes one large play structure with concrete curbing, 6 swings including toddler and standard swing, a spinner toy and new landscaping.  The Park District will give consideration to what site amenity will replace the sand volleyball court that was removed. The Park District will continue to monitor existing playgrounds throughout Frankfort. Replacement and repairs will be completed as needed.
Photo: Kids Around the World – Heritage Knolls 2018
Photo: Heritage Knolls Park New Playground
Free Little Libraries in Frankfort Parks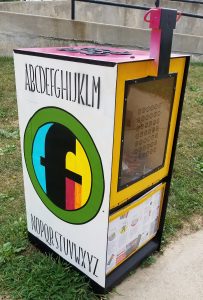 Four Little Free Libraries are being installed in Frankfort area parks. This project is a partnership between Friends of the Frankfort Library, Frankfort Arts Association and Frankfort Park District.
The Friends of the Frankfort Library is an independent non-profit organization that provides community support to the Frankfort Public Library. Through volunteer work, funds raised by the Friends of the Frankfort Library pick up where the library budget leaves off. Frankfort Arts Association is dedicated to enhancing the community through creation, education, promotion, and appreciation of the arts. The Friends of the Library group have acquired four retired metal newspaper boxes donated by Chicago Tribune, and Home Depot donated the use of a truck for transportation.  Frankfort Arts Association artists Gina Barrett, Pamela Biesen, Tom Hamilton, Kristin Murphy and Lisa Podlesak painted the boxes as community works of art, repurposing the boxes into "Little Free Libraries" throughout town. The 4 boxes will be placed throughout Frankfort with the first of the painted boxes located at Main Park.
The library group will be stocking the stand-alone boxes, but are hopeful families will adopt the "Take a Book, Leave a Book" philosophy. The boxes will be in the parks all year round, and available 24 hours a day, so please keep an eye out if you notice the boxes are empty, knocked down or have been vandalized. This is an experimental program and we are hopeful to acquire more boxes and expand to other parks.
Look for them around town!
Photos: Little Free Libraries
Judy Herder Memorial Pumptrack Installed
The Judy Herder Memorial Pumptrack was installed at Indian Boundary Park this past October. The project was funded by Operation Playground Foundation. The track located at Indian Boundary Park is suitable for bikes, skateboard, and inline skates or scooters, no motorized devices are permitted. There is easy access to the site from Old Plank Trail. The modular track is a 215' course; pieces can be added to reconfigured the layout and to enlarge the course. As far as Frankfort Park District staff is aware, this is the only modular pumptrack in Illinois.
In 2017, Operation Playground Foundation selected this modular pumptrack as their next project. The Foundation was granted permission by the Frankfort Park District Board to name the track in honor of the late Judy Herder.  Judy helped found Operation Playground Foundation in 1999 and served on the Foundation Board for 17 years and was instrumental in making numerous projects happen. A number of capital projects in the District wouldn't be possible without the time and efforts of Operation Playground Foundation. The Park District Commissioners and staff are grateful for the dedication of the Foundation! Head over to Indian Boundary and check it out!
Photos: Judy Herder Memorial Pumptrack

Thank You to Sponsors and Supporters of Pours for Parks Beer Tasting
Operation Playground Foundation would like to say thank you to the many sponsors and supporters of the 2018 "Pours for Parks" Beer Tasting. Thank You Sponsors and Donors; (Half Barrel Sponsors) • CD&ME • Excel Electric Inc. • FnA Bicycles • Frankfort Chamber of Commerce • Frankfort Area Historical Society • Frankfort Preservation Foundation • Trails Edge • Hailstorm Brewing Co • MyGrain Brewing • (Growler Sponsors) • Aurelio's Pizza • Bob's Automotive Service • Computer Bits Inc. • Farnsworth Group Inc. • Herder Brothers Movers • Metco Engineering Inc. • Oral Surgery Center  • Representative Margo McDermed • State Farm – John Harrell • (6-Pack Sponsors) • Advertising Solutions • Area Landscape Supply Inc. • Book Racing • Century 21 Pride Realty • Currency Exchange • Mayor Jim & Stacy Holland • Rich & Donna Vegter • (Pint Sponsors) • Auto Accessories Garage • Charrington Homeowners Association • Frankfort Lions Club • Isabela's Journey • Hauser, Izzo, Petrarca, Gleason & Stillman • Brook & Dave Klawittter • Old Second Bank • Town Center Bank •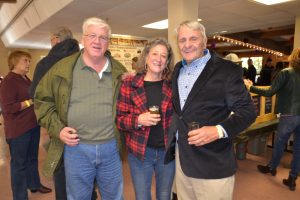 If you would like to make a donation to the project or to learn more about it, please visit www.opfrankfort.org.
Welcome
Welcome New Fundraising & Community Outreach Coordinator to the Frankfort Park District
The Frankfort Park District Board of Commissioners and Staff are pleased to announce and would like you to join us in welcoming Julie Sullivan as the new Fundraising & Community Outreach Coordinator. Her primary responsibilities include developing, coordinating, planning, and organizing all aspects of the District's fundraising programs for events. Julie is part of the Liaison Team to the Operation Playground Foundation and an active member of the Frankfort Chamber of Commerce. She hopes to establish strong, positive relationships between the Frankfort Park District and business owners in all the surrounding communities, as well as find new and exciting ways to enhance the existing events and programs created over the years.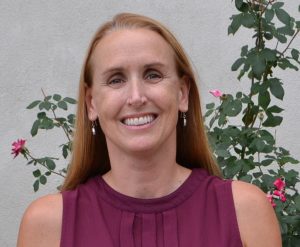 "I'm excited to start this journey with the Frankfort Park District. This position has allowed me to highlight my past work experience and feel challenged. The Founders Center is full of excitement, laughter, and people of all ages.  I'm thankful to have the opportunity to be able to work in a new role while meeting diverse people and feel like I can help make a difference."
Julie graduated from Illinois State University in Normal, IL with a Bachelors in Science. Since graduation she has had over 15+ years experience in various Marketing, Public Relations, Direct Sales, and Database Management positions. She currently lives in New Lenox with her husband, two young boys, and 2 dogs. Some of her favorite things to do with her family are to attend the Frankfort Farmers Market during the summer and New Lenox Christmas in the Commons in the winter.
Photo: Julie Sullivan, Fundraising & Community Outreach Coordinator
Thank you from the Frankfort Park District
The Frankfort Park District would like to take a moment to thank all of you who have volunteered at our events throughout the year. A lot of time and work goes into putting on a successful event, and we could not have done it without our volunteers! We appreciate your continued support!
Volunteer Opportunities
Do you need Community Service hours for school? Or do you just enjoy helping others? The Frankfort Park District is always looking for volunteers to help with various Special Events and other programs. Interested in volunteering? Contact Cali DeBella our Special Events Coordinator at 815-469-9400 or email her at cdebella@frankfortparks.org.
Interested in Volunteering?
Contact Cali DeBella our Special Events Coordinator at 815-469-9400 or you can email her at cdebella@frankfortparks.org.
2018 Volunteer Opportunities:
Please click HERE to download a listing of our FALL 2018 Volunteer Opportunities.
Click on the Event name to Sign-up Online for Volunteer Opportunities:
New Year's Countdown
Nerf Wars Tournament 
After-Hours Drop Box
For your convenience, the Frankfort Park District has an after-hours drop box located outside of the main entrance of the Founders Community Center, 140 Oak Street. Registrations placed in the drop box will be processed the following business day.
Hold your next party at the Frankfort Park District!
If you are looking for an affordable site to hold your party or event, the Founders Community Center is available for rental. Parties, weddings, showers or meetings can be held in our classrooms, gymnasium or the Founders Room. For more information, including rental rates and availability, please call the park district office at 815-469-9400.
Customer Service Statement
The Frankfort Park District is committed to providing responsive, friendly, courteous and excellent service to our customers.