The Park Pulse is a monthly newsletter distributed to the 157-C schools.  The newsletter features upcoming events, programs and announcements  from the Park District.
Click here to view the March 2020 edition of Park Pulse
Click here to view the February 2020 edition of Park Pulse
Click here to view the January 2020 edition of Park Pulse
Click here to view the December 2019 edition of Park Pulse
Click here to view the November 2019 edition of Park Pulse
Click here to view the October 2019 edition of Park Pulse
Park Perks – Winter/Spring 2020
Park Improvement News
Eagle Scout Bike Rack Project at Roy and Dorothy Janssen Park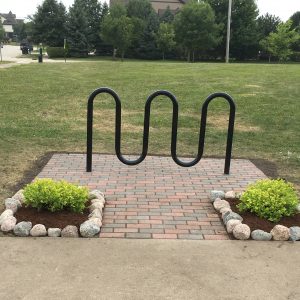 Rory Hanlon, a Frankfort resident and member of Boy Scout Troop 270, completed is Eagle Scout project with a contribution to Roy and Dorothy Janssen Park. Being a park user, Rory, noticed at times there were bikes laid about the park. There was not a dedicated location for the bikes to be parked. Rory's project was approved by the Frankfort Park District and he has worked with the park district by installing a bike rack. "The installation of a bike rack, I feel, would benefit the park by providing a place for people to leave their bicycles" said Rory. He organized the labor and the supplies and installed a bike rack with landscape pavers. The project looks great! The Eagle Scout award is the highest honor bestowed upon Scouts.
Photo: Janssen Park – Eagle Scout Bike Rack
Community Athletic Groups Invest in the Parks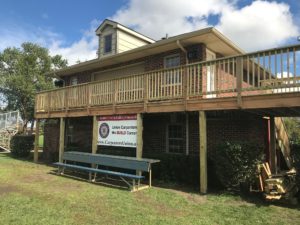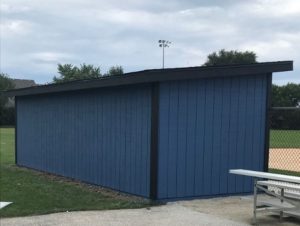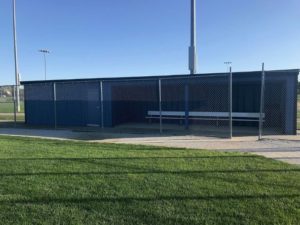 The Frankfort youth athletic organizations utilize a number of Park District fields for their programs.  The development of numerous assets in the parks was funded by the athletic groups. For example, the construction and cost of the football field and concession building at Main Park was funded by the Falcon Football program. The lights at the soccer field at Commissioners Park were paid for by Lincoln-Way soccer. Per their agreements, the organizations cover the cost of the utilities and expenses associated with their programs.
Annually, the local youth organizations reinvest in the parks. This year, Frankfort Baseball provided reinvested in the dug outs at Main and Commissioners Park. The project included new siding and roofs to the baseball dugouts at both parks. The Falcon Football program repaired and extended the decking around the concession building. The local youth organizations are an asset to the community. The volunteer boards and parent coaches provide a priceless opportunity for the youth of Frankfort. The Park District appreciates the partnership and time the organizations dedicate to the community.
Photos: Football Decking and Baseball Dugouts

Spotlight on Instructor – Lesley Shworles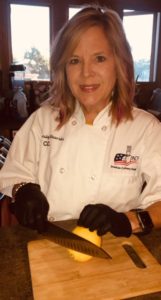 Chef Lesley Shworles, CC began teaching Youth, Teen and Adult programs at the Frankfort Park District in the Fall of 2019. She teaches a wide variety of cooking and bath care product classes; Love Your Instant Pot, Spooky Gingerbread Houses, Bath Bombs, Bubble Bath, Body Wash and Lotion, Bond and Bake. Chef Shworles says, "I'm looking forward to my upcoming classes. I can't wait to share my healthy cooking swaps and teaching students how easy it is to make your own bath care products without toxins."
Lesley studied business and worked in the corporate world for over 20 years. She attended Culinary School at Joliet Junior College and graduated with an Associate Degree in Culinary Arts, High Honors in 2015. She really got into teaching over 4 years ago. "I was in culinary school and getting ready to graduate, when I was diagnosed with breast cancer. I had attended some support groups at my local cancer support center, and I asked them if they were interested in some healthy lifestyle and cooking classes. They loved the idea, and from there I had my own program "Healthy Changes in the Kitchen and Beyond" she said.  In addition to teaching at the Frankfort Park District, Chef Shworles is a culinary arts instructor at Kankakee High School and works part-time teaching continuing education classes at Joliet Junior College.
Lesley was chosen as the Chicago White Sox 2019 Honorary Bat Girl, taking a bat against cancer. She volunteers at the cancer support center and hosts an annual food drive in memory of her late husband Chris. Proceeds go to the local food pantry and the American Heart Association.
Chef Shworles lives in Frankfort Square with her husband, Bart and two children Christopher and Miranda for the past 21 years. Bart is a plumber, Christopher works for a trucking company and Miranda attends Joliet Junior College and works part-time as a server.
Photo: Chef Lesley Shworles, CC
Thank You to Sponsors and Supporters of Pours for Parks Beer Tasting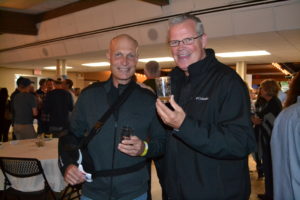 Operation Playground Foundation would like to say thank you to the many sponsors and supporters of the 2019 "Pours for Parks" Beer Tasting. Thank You Sponsors and Donors;
(Half Barrel Sponsors) • Arrowhead Ales Brewing Co. • Book Racing • Computer Bits Inc. • CD&ME • Excel Electric Inc. • Frankfort Chamber of Commerce • Hailstorm Brewing Co. • Hickory Creek Brewing Co. • MyGrain Brewery • Outlaw Spirits • Trail's Edge Brewery • (Growler Sponsors) • Farnsworth Group Inc. • Gnade Insurance • Metco Engineering Inc. • (6-Pack Sponsors) • Area Landscape Supply Inc. • Rich & Donna Vegter • (Pint Sponsors) • Advertising Solutions • Frankfort Lions Club • Hauser, Izzo, Petrarca, Gleason & Stillman • Mayor Jim & Stacy Holland • Town Center Bank •
Photo: Pours For Parks Beer Tasting 2019 – Chuck JaBaay & Dean Vaundry
Thank you from the Frankfort Park District
The Frankfort Park District would like to take a moment to thank all of you who have volunteered at our events throughout the year. A lot of time and work goes into putting on a successful event, and we could not have done it without our volunteers! We appreciate your continued support!
Volunteer Opportunities
Do you need Community Service hours for school? Or do you just enjoy helping others? The Frankfort Park District is always looking for volunteers to help with various Special Events and other programs. Interested in volunteering? Contact Cali DeBella our Special Events Coordinator at 815-469-9400 or email her at cdebella@frankfortparks.org.
Interested in Volunteering?
Contact Cali DeBella our Special Events Coordinator at 815-469-9400 or you can email her at cdebella@frankfortparks.org.
2020 Volunteer Opportunities:
Please click HERE to download a listing of our WINTER/SPRING 2020 Volunteer Opportunities.
Click on the Event name to Sign-up Online for Volunteer Opportunities:
After-Hours Drop Box
For your convenience, the Frankfort Park District has an after-hours drop box located outside of the main entrance of the Founders Community Center, 140 Oak Street. Registrations placed in the drop box will be processed the following business day.
Hold your next party at the Frankfort Park District!
If you are looking for an affordable site to hold your party or event, the Founders Community Center is available for rental. Parties, weddings, showers or meetings can be held in our classrooms, gymnasium or the Founders Room. For more information, including rental rates and availability, please call the park district office at 815-469-9400.
Customer Service Statement
The Frankfort Park District is committed to providing responsive, friendly, courteous and excellent service to our customers.