The Park Pulse is a monthly newsletter distributed to the 157-C schools.  The newsletter features upcoming events, programs and announcements  from the Park District.
Click here to view the October 2019 edition of Park Pulse.
Click here to view the September 2019 edition of Park Pulse.
Park Perks – Fall 2019
Park Improvement News
Long Range Plans for the Park District
The Park District completed a Facility Assessment Study with DLA Architects. The process included on-site walk-throughs of the District's buildings and grounds.  The tool created from the study will serve as a planning tool aiding the District in the fiscal forecasting and identifying potential future expenditures. The tool will enable the administrative staff and the Park Commissioners to establish future construction and maintenance budgets. The process of completing the study is a stepping stone for developing a comprehensive plan for future needs and budget expenditures. The assessment study is a major component of the Park District's long-range plan. The District is looking to prioritize the projects and allocate resources for the projects.  The Park District will be evaluating grant opportunities from the State of Illinois for possible funding of projects in the survey.
Operation Playground Foundation Tackles Pickleball
The Foundation is working on their next park project. The goal is to address the increased participation and growth in pickleball. Pickleball is one of the fastest growing recreational sports. The Park District currently offers open pickleball at the Founders Center but does not have outdoor courts. Operation Playground and the staff worked to find a location where outdoor pickleball courts could be added. It is popular to repurpose tennis courts for pickleball. However, Frankfort doesn't have a surplus of tennis courts. There seems to be a way to repurpose the skate park pad at Commissioners Park while utilizing the skate park equipment at another location.
The Foundation is working to raise funds to develop the 3 pickleball courts that will be located at Commissioners Park. The courts will be enclosed and will include shade structures. The Foundation will fund the pickleball court project but is hopeful funds may be available through state grant funding to offset the cost. The goal is to move the project forward in the 2020. Operation Playground raises funds for park projects through the annual Pours for Parks Beer Tasting and through managing the accessible parking at the annual Fall Fest. Operation Playground is a registered 501C3 and welcomes donations and volunteers. To learn more, visit their website at www.opfrankfort.org.
Judy Herder Memorial Pumptrack Dedication and Strider Cup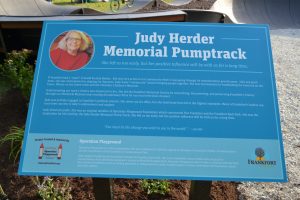 The Frankfort Park District and Operation Playground Foundation celebrated the Judy Herder Pumptrack Dedication and Strider Cup on Thursday, June 27 at Indian Boundary Park, Nebraska St. & Luther Lane. The celebration included time trial races for striders, bikes, scooters, and skateboards on the new pumptrack. Striders were provided by FnA Bicycles. There was also a bicycle safety and obstacle course. Frankfort Police Department was present to provide bike safety information.
Thank you to all who made the Judy Herder Memorial Pumptrack possible. This is a great way to honor a wonderful person and leave a lasting asset for generations to come. Thank you to the Herder family for allowing us to honor Judy. A special thank you to the Frankfort Brass Band for the donation of the park bench. Thank you to FnA Cycle and Frankfort Police Department for being part of the event.
Newly Re-Elected Board Commissioner
Frankfort voters supported a referendum in the November 2018 election that reduced the Frankfort Park District Board from a 7 to 5 member board. As part of the Board reduction, only one seat was up for the spring election. At the May 14th Frankfort Park District Board Meeting, Commissioner Tom Barz was sworn in for his 6th term. Tom Barz has served on the Frankfort Park District Board since 1999. During his tenure, Tom has worked with the park board to obtain $1.5 million from the State of Illinois for OSLAD grant programs and he assisted in the park district adding 150 additional acres of park space. During his time on the Board, Tom has been involved at the state level serving as President of the Illinois Association of Park Districts and serving on numerous committees within the Illinois Park and Recreation Association. The Park District is excited to have Tom Barz continue to serve on the Board for another four year term.
Frankfort Park District "On Pointe" Dancers won New York Experience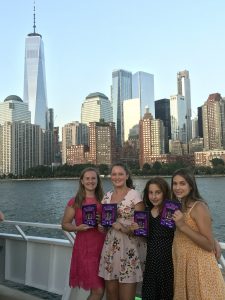 In March 2019 several dancers from the Frankfort Park District "On Pointe" program won a chance to dance in New York City this summer. Dancers Emma Buckley, Jenna Murino, Sarah Huber and Taylor Pandell of New Lenox took advantage of the opportunity by taking part in the New York Experience they won at the Kids Artistic Revue Dance Competition.
On Saturday, July 13th these dancers took dance classes at Broadway Dance Center in New York City; had a Master Class with the Rockettes and a full tour of Radio City Music Hall, learned choreography from Broadway Performers who were in Wicked, saw two different Broadway Musicals, and toured New York City.
Photos from Left to Right:
On Pointe New York (1): Jenna Murino, Emma Buckley, Sarah Huber and Taylor Pandell
On Pointe New York Rockette (9): Taylor Pandell, Emma Buckley, Rockette, Sarah Huber and Jenna Murino
Spotlight on Instructor – Laurie Piton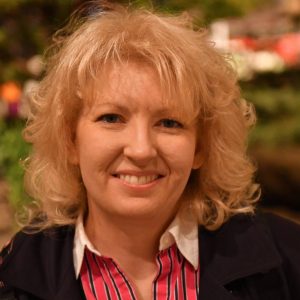 Laurie Piton has been teaching Adult Photography classes at the Frankfort Park District since June 2001 and is a resident of Orland Park. She teaches a wide variety of Photography classes; Beginning D-SLR, Macro Photography, Flash Photography, Green Screen Photography, Image Editing, Composition, and Black & White Photography. Laurie loves photography and sharing her passion with others so they can use their cameras effectively while also being creative.
Laurie's passion for photography goes way back. She said, "When I was 7, my Uncle who was into photography gave me my first camera as a gift. I would burn out the flash every couple years or so and need another 110 camera. That gift woke up the photo bug in me." She received her first film SLR camera in high school, and was the yearbook photographer her junior and senior years. After high school Laurie studied commercial photography at Winona International School of Professional Photography.
Medicine Wheel Planting 2019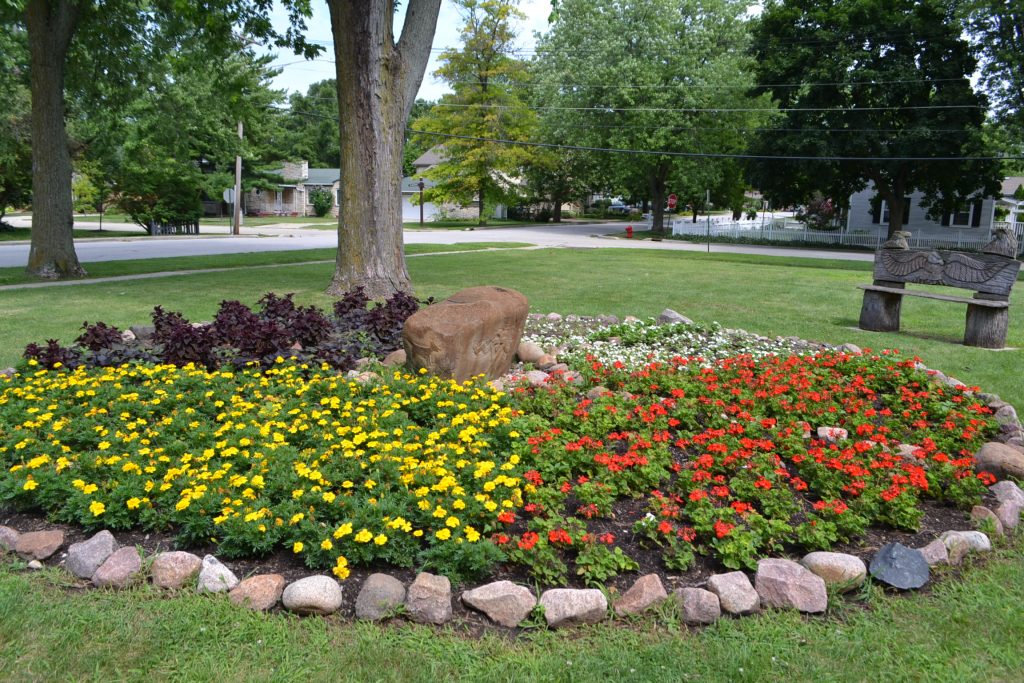 Annually, the Old Town Homeowners Association, residents of the community of Frankfort, plant flowers in the Frankfort Park District – Medicine Wheel on the west side of the Founders Community Center, 140 Oak Street. Donations of flowers are secured from Alsip Home & Nursery, Garden Glen and Saunoris' Garden Center.
The Native American Indian Medicine Wheel is a symbol of the interconnectedness of all things in the Circle of Life. The flower colors; red, yellow, white and black represent the four races of humankind and the center circle represents the Great Creator from which all of life comes. Medicine wheels were used as tribal gathering spaces to commune with the spirit and for ceremony and celebration.
Thank you from the Frankfort Park District
The Frankfort Park District would like to take a moment to thank all of you who have volunteered at our events throughout the year. A lot of time and work goes into putting on a successful event, and we could not have done it without our volunteers! We appreciate your continued support!
Volunteer Opportunities
Do you need Community Service hours for school? Or do you just enjoy helping others? The Frankfort Park District is always looking for volunteers to help with various Special Events and other programs. Interested in volunteering? Contact Cali DeBella our Special Events Coordinator at 815-469-9400 or email her at cdebella@frankfortparks.org.
Interested in Volunteering?
Contact Cali DeBella our Special Events Coordinator at 815-469-9400 or you can email her at cdebella@frankfortparks.org.
2019 Volunteer Opportunities:
Please click HERE to download a listing of our FALL 2019 Volunteer Opportunities.
Click on the Event name to Sign-up Online for Volunteer Opportunities:
After-Hours Drop Box
For your convenience, the Frankfort Park District has an after-hours drop box located outside of the main entrance of the Founders Community Center, 140 Oak Street. Registrations placed in the drop box will be processed the following business day.
Hold your next party at the Frankfort Park District!
If you are looking for an affordable site to hold your party or event, the Founders Community Center is available for rental. Parties, weddings, showers or meetings can be held in our classrooms, gymnasium or the Founders Room. For more information, including rental rates and availability, please call the park district office at 815-469-9400.
Customer Service Statement
The Frankfort Park District is committed to providing responsive, friendly, courteous and excellent service to our customers.