The Park Pulse is a monthly newsletter distributed to the 157-C schools.  The newsletter features upcoming events, programs and announcements  from the Park District.
Click here to view the March 2020 edition of Park Pulse

Park Perks – Summer 2020
Park Improvement News
Pickleball is Coming!
Pickleball is one of the fastest growing sports in the US. Many who have played tennis are enjoy the fast-paced game of Pickleball but value the smaller court. Three Pickleball courts will be added to Commissioners Park this summer. The skate park equipment will be repurposed and the concrete pad will be repurposed. The skate park equipment is being removed and will be repurposed at Jackson creek or future home. The Pickleball project is being funded by Operation Playground Foundation. The Foundation works to provide funding for projects that are not within the budget of the District. The work is estimated to start this spring and will include fencing, the installation of a shade structure and court surfacing and striping for the three courts. Weather permitting, the courts will be ready by mid-summer.
Park Projects
Annually the District evaluates the parks and indoor facilities of the District. This year staff is focusing on maintenance of existing parks and structures. Repairs to the roofs at the Founders Community Center are being completed to maintain the facility along with repairs to the park shelter roofs. Asphalt projects at Commissioners Park will be addressed in the late spring along with updates to the park pond fishing piers.
New Buildings & Grounds Foreman
The Frankfort Park District would like to introduce and welcome Andrew Farkas as the Buildings and Grounds Foreman as of March 2, 2020. Under the direction and supervision of Ed Newton, Superintendent of Building and Grounds, Foreman Farkas' responsibilities include supervising full-time and part-time staff, as well as performing a variety of special projects, park maintenance, athletic field maintenance, turf maintenance, facility maintenance, horticulture, forestry, custodial and recreation support activities.
Andrew brings his experience as groundskeeper and the head of ballfield maintenance at Prairie State College to the Frankfort Park District. He resides in Mokena, enjoys skating, softball and spending time with his two wonderful children; 12-year-old daughter Olivia and 10-year-old son Brody. Andrew said, "I look forward to working at the Frankfort Park District, helping to continue the work they have done, as well as the fine work we will do in years to come." Andrew will be a great addition to our team!
Photo: Andrew Farkas, Buildings and Grounds Foreman

Welcome New Board Member – Mark Ponton
The Frankfort Park District Board of Commissioners and Staff would like you to join us in welcoming our newly appointed board member Mark Ponton. Mark Ponton was sworn into office as Commissioner for the Frankfort Park District on January 28th at the Board Meeting. The Park District Board conducted interviews to fill the vacated seat of former Commissioner John Reilly who resigned in August of 2018. Mr. Ponton will serve the remaining time of the term which is through April of 2021.
Mark is originally from St. Anne Illinois and located to the Frankfort area around 1986 after obtaining a BS degree in Computer Management from Eastern Illinois University. Ponton worked for Northern Trust Bank for 16 years and is currently employed by McDonalds Corporation as an Information Technology project management. He has three children, two sons in college and one daughter in high school. His previous board experience includes St. Anthony Pre School, St. Mary Mokena School Board and Athletic Board. He is very excited to join the Frankfort Park District Board and looks forward to serving the community and working with the Frankfort residents, Park District staff and Board members.
Photo: Mark Ponton, Board Commissioner
Spotlight on Instructor – Angie Pope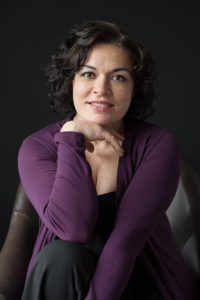 Angie Pope, aka "Miss Angie" to her students, began teaching classes at Frankfort Park District in the early part of 2014. She offers two classes: "Mighty Music Makers" for ages 3-5, and "Miss Angie's Rocking Tots" for ages 1 & 2. Both levels are designed for child and adult to attend and participate in together. In class students sing, play simple percussion instruments, dance, do creative movement activities, and play musical games.
Back in 2009 Angie was living in Oak Park down the street from a private music studio that offered Musikgarten classes. "I met the owner through a friend of a friend and began doing administrative work there. After a while she asked me if I had ever thought about teaching. I hadn't. But I was open to the idea and once I began studying the philosophy behind early childhood music education and all the benefits it could provide, I fell in love with teaching and it quickly became my passion" said Angie.
Angie grew up in Tinley Park, and has been involved with music and dance since 4-years-old. She graduated in 1996 from Rockford University with a B.A. in dance and psychology. Angie has worked professionally doing musical theatre and performing as a vocalist with various bands and orchestras in the Chicago area. In 2010 she became certified as a Musikgarten instructor, and in 2014 she joined ECMMA (Early Childhood Music and Movement Association). "Music has always been a passion of mine, and I love being able to share it with children and hopefully inspire them in some way" said Angie.
"I love teaching at Frankfort Park District! I have watched my program grow tremendously over the past six years and I have met so many wonderful families. I love watching the children grow and blossom, and even though they will all age out at some point (the sad part of my job!) many times, I then end up teaching their younger siblings down the road! I consider it a huge compliment when families keep returning for multiple sessions, and then repeat with their other children" said Angie.
Angie resides in Palos Heights with her husband of 7 years, Ty, and daughter Carol, 5. In addition to running her teaching business, "Miss Angie's Music," she also sings with the Becca Kaufman Orchestra on the weekends, performing at private functions such as weddings and corporate events. In her spare time, she enjoys running and fitness classes, crossword puzzles, and many music-related activities! For more information, you can visit Miss Angie's website at www.missangiemusic.com.
Photo: Angie Pope aka "Miss Angie"
Mark of Excellence Dance Competition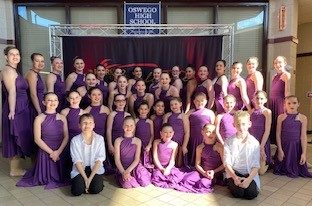 The FPD On Pointe Dancers won several awards at their 1st competition of the year.  The Production Dance called Will You Be There won 1st Place overall. Head Above Water won 3rd Place Overall, Dreaming won 4th Place Overall in the senior division.  The Boys are Back again, a boy duo won 2nd place overall in duo/trio division.  Moonlight and the Greatest Show tied for 5th place, while A Little Party received 4th place in the junior division.  Get Back Up Again won 3rd place while A little Kiss received 4th place in the Petite Division.  This was the first dance competition of the year for these dancers.
Photo: FPD On Pointe Dancers

Thank you from the Frankfort Park District
The Frankfort Park District would like to take a moment to thank all of you who have volunteered at our events throughout the year. A lot of time and work goes into putting on a successful event, and we could not have done it without our volunteers! We appreciate your continued support!
Volunteer Opportunities
Do you need Community Service hours for school? Or do you just enjoy helping others? The Frankfort Park District is always looking for volunteers to help with various Special Events and other programs. Interested in volunteering? Contact Cali DeBella our Special Events Coordinator at 815-469-9400 or email her at cdebella@frankfortparks.org.
Interested in Volunteering?
Contact Cali DeBella our Special Events Coordinator at 815-469-9400 or you can email her at cdebella@frankfortparks.org.
2020 Volunteer Opportunities:
Please click HERE to download a listing of our SUMMER 2020 Volunteer Opportunities.
Click on the Event name to Sign-up Online for Volunteer Opportunities:
After-Hours Drop Box
For your convenience, the Frankfort Park District has an after-hours drop box located outside of the main entrance of the Founders Community Center, 140 Oak Street. Registrations placed in the drop box will be processed the following business day.
Hold your next party at the Frankfort Park District!
If you are looking for an affordable site to hold your party or event, the Founders Community Center is available for rental. Parties, weddings, showers or meetings can be held in our classrooms, gymnasium or the Founders Room. For more information, including rental rates and availability, please call the park district office at 815-469-9400.
Customer Service Statement
The Frankfort Park District is committed to providing responsive, friendly, courteous and excellent service to our customers.