The Park Pulse is a monthly newsletter distributed to the 157-C schools.  The newsletter features upcoming events, programs and announcements  from the Park District.
Click here to view the February 2022 Edition of Park Pulse
Click here to view the Winter 2022 TEEN Edition of Park Pulse
Click here to view the January 2022 Edition of Park Pulse
Click here to view the December 2021 Edition of Park Pulse
Click here to view the November 2021 Edition of Park Pulse
Click here to view the October 2021 Edition of Park Pulse
Click here to view the September 2021 Edition of Park Pulse
Click here to view the Summer 2021 edition of Park Pulse
Park Perks – Winter/Spring 2022
Park District News
Renovated Commissioners Park Splash Pad to Open in 2022
The renovation to the Commissioners Park Splash pad is underway. The demolition of the equipment was completed in October. The contractor is mobilizing and will begin forming and pouring the surge tank. The renovated splash pad will have a water recirculation system. The recirculation system will improve the water quality as the old system used a dedicated well which was rich in iron and was very cold. It is anticipated that the renovation will be done summer of 2022.
Photo: Splash Pad equipment upgrade renderings.
Playground Installation Updates
The new playground equipment is in at Brookmeadow and Sandalwood Parks! The Commissioners and staff thank the residents for their patience and understanding.
When a playground is pulled for replacement, the intention is to have it replaced within a month. The playground equipment was on hand prior to the removal but material shortages and labor issues delayed the installation and completion of the projects. The park benches and site accessories have yet to be delivered. The most recent ship date was October but with the disruptions to the supply chain, the District anticipates they will arrive after the first of the year.
Brookmeadow and Sandalwood both have poured in play surfacing which are the first for the District. The investment in the surfacing for the playgrounds will allow for better access for individuals with mobility issues. The surfacing also requires less ongoing maintenance. The playgrounds look great, and we hope residents can get out an enjoy them this fall.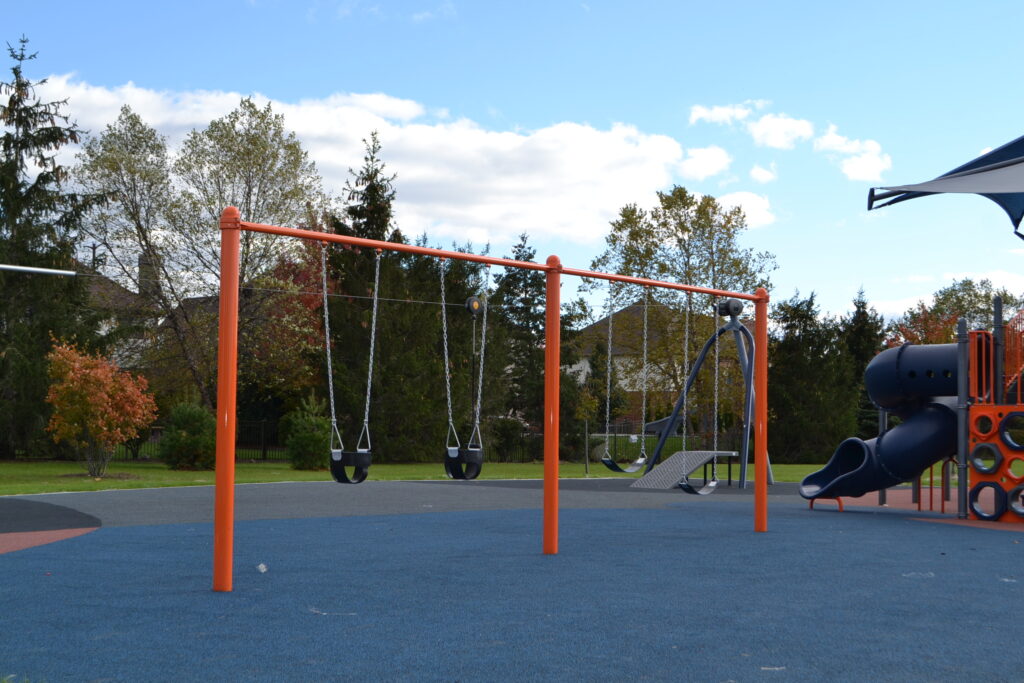 Photos: Sandalwood Park and Brookmeadow Park playgrounds.
Pours for Parks – Attendance Grows!
Operation Playground Foundation hosted the 5th Annual Pours for Parks event on October 16th at the Founders Center. The 21 & over event featured tastings from local wine, beer, and spirits vendors. The attendance this year exceeded over 300 guests and was supported by numerous donors and vendors.
The monies raised by Operation Playground Foundation will be invested in the Frankfort parks. Most recently the Foundation renovated the skate park pad into Pickleball courts. Other projects funded by the OPF include the fitness equipment along Old Plank Trial, basketball courts at Main Park and the Judy Herder Pump track.
To learn more about Operation Playground Foundation or to join the Foundation Board, or if you would like to make a donation or volunteer, please visit www.opfrankfort.org.
Spotlight on Instructors – 3 New Preschool Teachers
The Frankfort Park District welcomes three new Preschool Teachers the Fall of 2021.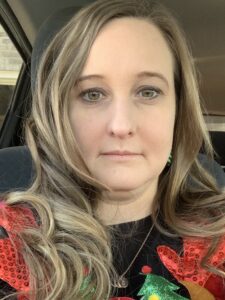 Jamie Novak began teaching Stepping Stones Preschool in August of 2021. She is a graduate of Naperville North High School and attended College of DuPage for Early Childhood Studies. "I enjoy working with kids and helping them learn new things. Everyday is a new and fun experience", said Novak who has lived in the area with her family and 2 dogs for five years.
Mrs. Michelle (Shelly) Baisa started teaching Play School on Tuesdays and Thursdays for the park district in September of 2021. She has a bachelor's degree in Elementary Education, and has worked as a substitute teacher and paraprofessional in a special needs pre-k program over the past several years. Shelly said, "Teaching is just something I always wanted to do, so that was naturally the path I took when choosing my career" and "my favorite thing about preschool is developing relationships with the little ones and watching them grow by leaps and bounds in the short time we have with them". Her family started out in Homewood and have lived in Northwest Indiana for 12 years. Along with her husband of 25 years, who is also a teacher, she has 3 children and lots and lots of pets including 4 cats, 1 dog, and a saltwater tank full of fish!
Shannon Labit began teaching Wee Works in the Fall of 2021. She has a masters degree in Multicategorial Special Education and has worked in special education classrooms for 10+ years.  She started working at Gymboree Play & Music teaching Birth-5 year olds but it was closed due to COVID. Shannon stated, "I have always loved children! I have a love for learning and helping children reach their goals. I love modifying lessons and adapting them to the needs of each child" and "learning through play and interaction with others is the most important at this age".  Shannon lives in New Lenox with her husband and 3 children.
Sponsorship Opportunities
The Frankfort Park District is looking to build partnerships with local businesses, foundations or individuals interested in supporting the District's events and programs through sponsorship opportunities. Becoming a sponsor is an excellent way to show your support for the community while increasing your visibility throughout the Frankfort area. Please contact Julie Sullivan our Fundraising & Community Outreach Coordinator, jsullivan@frankfortparks.org or call 815.469.9400 for more information.
Volunteer Opportunities
Do you need Community Service hours for school? Or do you just enjoy helping others? The Frankfort Park District is always looking for volunteers to help with various Special Events and other programs. Interested in volunteering?
Contact Cali DeBella our Recreation Supervisor at 815.469.9400 or email her at cdebella@frankfortparks.org.
Interested in Volunteering?
Contact Cali DeBella our Recreation Supervisor at 815.469.9400 or email her at cdebella@frankfortparks.org.
Thank you from the Frankfort Park District
The Frankfort Park District would like to take a moment to thank all of you who have volunteered at our events throughout the year. A lot of time and work goes into putting on a successful event, and we could not have done it without our volunteers! We appreciate your continued support!
2022 Volunteer Opportunities:
Click on the Event name to Sign-up Online for Volunteer Opportunities:
Friday Daddy Daughter Dance – Friday, February 4 / 5:30-8:30 pm
Saturday Daddy Daughter Dance – Saturday, February 5 / 5:30-8:30 pm
Friday Craft Show – Friday, March 4 / 4:30-7:00 pm
Saturday Craft Show – Saturday, March 5 /7:00 -9:00 am or 2:30-4:30 pm
Family Fun Fly – Tuesday, March 29 / 10:45 am – 12:15 pm
Donuts with Bunny – Saturday, April 9 / 10:15 am – 12:00 pm
Egg Hunt – Saturday, April 9 / 12:15 – 2:00 pm
Super Dog Egg Hunt – Saturday, April 9 / 2:00 – 3:00 pm
Kids Garage Sale – Saturday, April 23 / 10:15 am – 12:00 pm
Celebrating Earth Day – Saturday, April 23 / 12:00 -3:00 pm
After-Hours Drop Box
For your convenience, the Frankfort Park District has an after-hours drop box located outside of the main entrance of the Founders Community Center, 140 Oak Street. Registrations placed in the drop box will be processed the following business day.
Hold your next party at the Frankfort Park District!
If you are looking for an affordable site to hold your party or event, the Founders Community Center is available for rental. Parties, weddings, showers or meetings can be held in our classrooms, gymnasium or the Founders Room. For more information, including rental rates and availability, please call the park district office at 815-469-9400.
Customer Service Statement
The Frankfort Park District is committed to providing responsive, friendly, courteous and excellent service to our customers.