The Park Pulse is a monthly newsletter distributed to the 157-C schools.  The newsletter features upcoming events, programs and announcements  from the Park District.
Click here to view the October 2020 edition of Park Pulse
Click here to view the September 2020 edition of Park Pulse

Park Perks – Fall 2020
Park District News
Memorial to Michael Guzy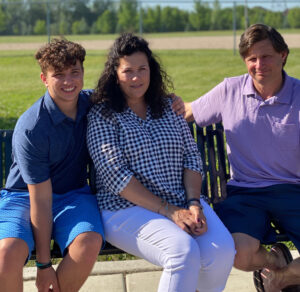 The Heritage Knolls subdivision neighbors honored the life of the Michael Guzy. To honor the life of Michael, the neighbors donated two memorial benches that were installed adjacent to the Heritage Knolls Playground. In addition, they donated two memorial trees that will be planted at the park in the fall.
Michael past away in 2019 at the young age of 19. He grew up in Frankfort and he called the Heritage Knolls Park his park since the park backed up to his backyard.
Michael was born with a hole in his heart.  The Guzy family did numerous fundraisers for children with heart defects.  Michael decided to do the same while he was growing up, he raised funds for those in need including the Ronald McDonald House. Michael's memory is honored at the Heritage Knolls Park.
Photo: Guzy family; Matthew, Jen and Mike Guzy
Photo: Memorial benches
Patriotic Porch Contest Winners
Thank you to all our Frankfort families that participated in the Patriotic Porch Decorating Contest this year. We had some many wonderful submissions and it was a hard decision to make. We are happy to announce the Ricciardi family as our winner.
Photo: Ricciardi Family
Friends of the Parks
Within the Park District, there are a number of residents that are stewards of the parks. In some cases, the people live close to the park and call to report damage or report areas that need attention. This year, the District wanted to spotlight a Friend of the Parks, Kathy Irvine.
Kathy lives around the corner from the Founders Center. Staff noticed Kathy tending to the planting bed that was overgrown. The southeast corner flower bed was originally planted by a local gardening club. However, in recent years the club has disbanded, and the plantings had been neglected. Kathy has love of gardening and has taken to managing the corner. Kathy was aware of the limited resources the Park District had and with her expertise she took to work.
You can often find Kathy working in the early morning. She is weeding as well as trimming the shrubs. It has been a long process as she has sorted through the species to remove the weeds. The difference is noticeable and appreciated. The beauty is shining through. People have stopped and ask her about her work, and they have mentioned her efforts. Thank you to Kathy for her stewardship to the Park District. Others who are interested can adopt flowering bed through the Park District's Adopt-A-Flower Bed program. Information is available on the website.
Photos: Kathy Irvine
Long Run Virtual Marathon 2020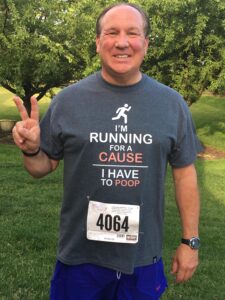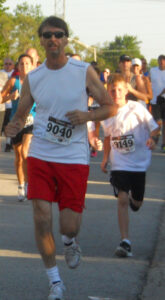 Due to COVID-19 the Frankfort Park District had to cancel the 20th annual Short Run on a Long Day 5k Run/Walk, it has been postponed until 2021. The Frankfort Park District didn't want to wait that long to offer a fun recreational opportunity to the community, so the staff came up with an alternative event the "Long Run Virtual Marathon 2020". There is no better way to social distance you or your family than going for a walk or run around your neighborhood!
A virtual marathon is a race you pay to enter where you are expected to meet a target (e.g. run 26.2 miles total over a month time frame) to win a medal and get the satisfaction of completing a marathon! Virtual races are very similar to live races – you enter a race and when you finish you get a medal but differ from live events in two key ways: 1) You can choose to complete the race whenever you like between the time frame assigned. 2) You can complete the race wherever you like. You can even do the whole thing indoors on a treadmill.
192 participants registered to join the Frankfort Park District for this unprecedented race during unprecedented times… LONG RUN over an even LONGER SUMMER Marathon!!! After completing the Virtual Marathon, the runners picked up their medal and shirt at the Founders Community Center.
Congratulations to Jodi Haefner for being the 1st participant to complete the 26.2 Long Run Virtual Marathon 2020.
For over the past 13 years, runners Daryl Dahlberg and Doug Molski have been long-time dedicated participants in the Short Run on a Long Day. Both also registered for this year's Long Run Virtual Marathon.
Daryl Dahlberg moved to Frankfort in 2002 and observed the exciting atmosphere of the Short Run race that year. He was determined that the next year he would participate in the event even though he had never run in a 5K or any organized race. He competed in his first Short Run on a Long Day race in 2003. He continued to register each year stating, "Although I'm not a fast runner, I do enjoy competing and participating in this special event – it also helps motivate me to do more running." In his opinion, "the Short Run continues to be so popular throughout the years because the race and the post-race activities are well organized and the course is beautiful: starting the race at Main Park, running on Old Plank Trail through Frankfort's quaint downtown and continuing into the scenic residential historic district is pretty neat". Daryl noted the changes in the Short during the past 19 years, "It has grown from 200 participants in my first year to over 400 participants in 2019. Also, the course seems to be getting longer but it could be I'm just getting older." Regarding the virtual Marathon he said, "It was a smart option based on safety concerns and it motivated me to run more than I would have, especially considering the hot temperatures at the end of June and beginning of July. I did, however, miss the other runners, spectators, and the festivities of the "Short Run on a Long Day".
Doug Molski has been participating in the Short Run on a Long Day for 14 years now.  He moved into his home in Founders Place in March of 2003 and his home faces the park. June of that year he noticed a bunch of runners out there but didn't think anything of it. The same thing happened the next year but this time he went out to see what it was all about and found out it was a Park District event.  Doug said "I had no excuses as being it starts and ends in my backyard, so I signed up for the 2005 run and have been doing it ever since. I am not a runner, but I do workout every week Monday through Friday and I really enjoy this event. It is very well run, and all the volunteers and fellow runners are very helpful and supportive. I have known people who have run in the Chicago Marathon and it is something that I always wanted to do but like I said earlier I am not a runner so I know that there is no way that I could run in a traditional marathon". When the virtual marathon was announced he was excited and said to himself "now that is something that I can do. I absolutely loved doing it! When I finished, I put on Facebook what I had just done and the response that I got was overwhelming. I don't know if the Park District is going to do this again, but I am SO glad that I signed up and did it".
Thank you "Long Run Virtual Marathon 2020" Sponsors; Town Center Bank, Jeffery LaMorte Salon & Day Spa (shirt sponsor), METT Therapy Services, Baird & Warner and Running for Kicks.
Photo: Doug Molski #4064 and Daryl Dahlberg #9040
Pickleball Courts Opening the end of August
Three new Pickleball courts are opening soon at Commissioners Park. The Pickleball project has been funded by Operation Playground Foundation. The Foundation works to provide funding for projects that are not within the budget of the District. Operation Playground is a registered 501C3 and welcomes donations and volunteers. To learn more, visit their website at www.opfrankfort.org. Pickleball is one of the fastest growing sports in the US. Many who have played tennis are enjoy the fast-paced game of Pickleball but value the smaller court. Come Join the Fun!
Photo: Pickleball Courts
Thank you from the Frankfort Park District
The Frankfort Park District would like to take a moment to thank all of you who have volunteered at our events throughout the year. A lot of time and work goes into putting on a successful event, and we could not have done it without our volunteers! We appreciate your continued support!
Volunteer Opportunities
Do you need Community Service hours for school? Or do you just enjoy helping others? The Frankfort Park District is always looking for volunteers to help with various Special Events and other programs. Interested in volunteering? Contact Cali DeBella our Special Events Coordinator at 815-469-9400 or email her at cdebella@frankfortparks.org.
Interested in Volunteering?
Contact Cali DeBella our Special Events Coordinator at 815-469-9400 or you can email her at cdebella@frankfortparks.org.
2020 Volunteer Opportunities:
Please click HERE to download a listing of our SUMMER 2020 Volunteer Opportunities.
Click on the Event name to Sign-up Online for Volunteer Opportunities:
After-Hours Drop Box
For your convenience, the Frankfort Park District has an after-hours drop box located outside of the main entrance of the Founders Community Center, 140 Oak Street. Registrations placed in the drop box will be processed the following business day.
Hold your next party at the Frankfort Park District!
If you are looking for an affordable site to hold your party or event, the Founders Community Center is available for rental. Parties, weddings, showers or meetings can be held in our classrooms, gymnasium or the Founders Room. For more information, including rental rates and availability, please call the park district office at 815-469-9400.
Customer Service Statement
The Frankfort Park District is committed to providing responsive, friendly, courteous and excellent service to our customers.