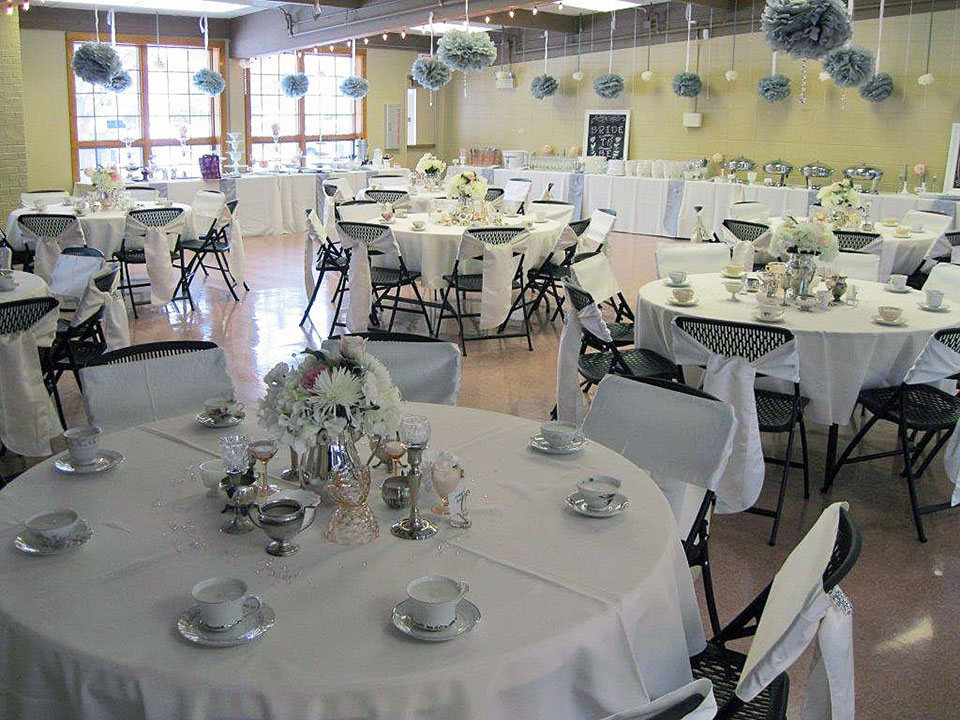 Rental Information
The Founders Community Center is available for weddings, showers, parties, meetings and all of your conference needs.  Our classrooms, gymnasium and Founders Room are perfect for groups of 5-150.  The Founders Room of the Founders Center may be reserved six months prior to the scheduled event.  For more information  call (815) 469-9400.
The Frankfort Lions Club provided $3,000 to the Frankfort Park District for purchase of new chairs for the Founders Community Center. The chairs will be used for classes, meetings, events, parties, etc. The Park District and the community thank you!
The Founders Community Center offers free WiFi.
Room
Rental Fee
Non-
Resident
Security Deposit
Deposit – Non resident
Founders Room*
$60/hour
$120/hour
$120
$240
Classroom*
$20/hour
$35/hour
$50
$100
Classroom (large)
$25/hour
$40/hour
$50
$100
Gymnasium*
$60/hour
$120/hour
$120
$240
Main Park Pavilion
$75/day
$150/day
$100
$200
Fort Frankfort Pavilion
$50/day
$100/day
$100
$200
*2 hour minimum
Please note:  No grilling or liquor allowed at Fort Frankfort
Optional Fees/Equipment Rental
Room Set Up Charges:  $100 flat fee
Room Clean Up Charges: $100 flat fee
A bag of 4 basketballs, 2 volleyballs and 6 dodgeballs can be rented for $10 when renting the Gym.  If the bag of balls is not returned, renters will forfeit their Gym rental security deposit. No charge for use of the kitchen when renting other program space (based on availability).  Security deposits are fully refundable if program space is left clean.  Clean Up fee rate will be applied toward Security Deposit for any additional clean up.
Look for the Staff Shirt
There will be a Park District Building Supervisor present for every activity at the Founders Center and all Park programs held at Hickory Creek Middle School, Chelsea Intermediate School, Grand Prairie Elementary School and Lincoln-Way East Field House.   They are responsible for monitoring the building and assisting when needed.  They are easily identified by their Park District shirt.
Pavilion Rentals
All pavilions at Commissioners Park and Main Park shall require a permit for use by 10 or more persons.  There must be a minimum of 1 adult per every 10 children.  The maximum number of persons per pavilion shall be 50.  User must complete the Application for Use of Facilities form provided by the Park District and pay fees accordingly.  Rental of a pavilion includes the pavilion ONLY. Rentals do not include playgrounds, ballfields or any other recreational area.  All rules and ordinances of the Park District must be followed and will apply to pavilion users.
Motorized vehicles of any kind may not be driven by the public on property owned or leased by the Frankfort Park District except on designated roadways.  Only authorized Park District vehicles may be driven in the parks.