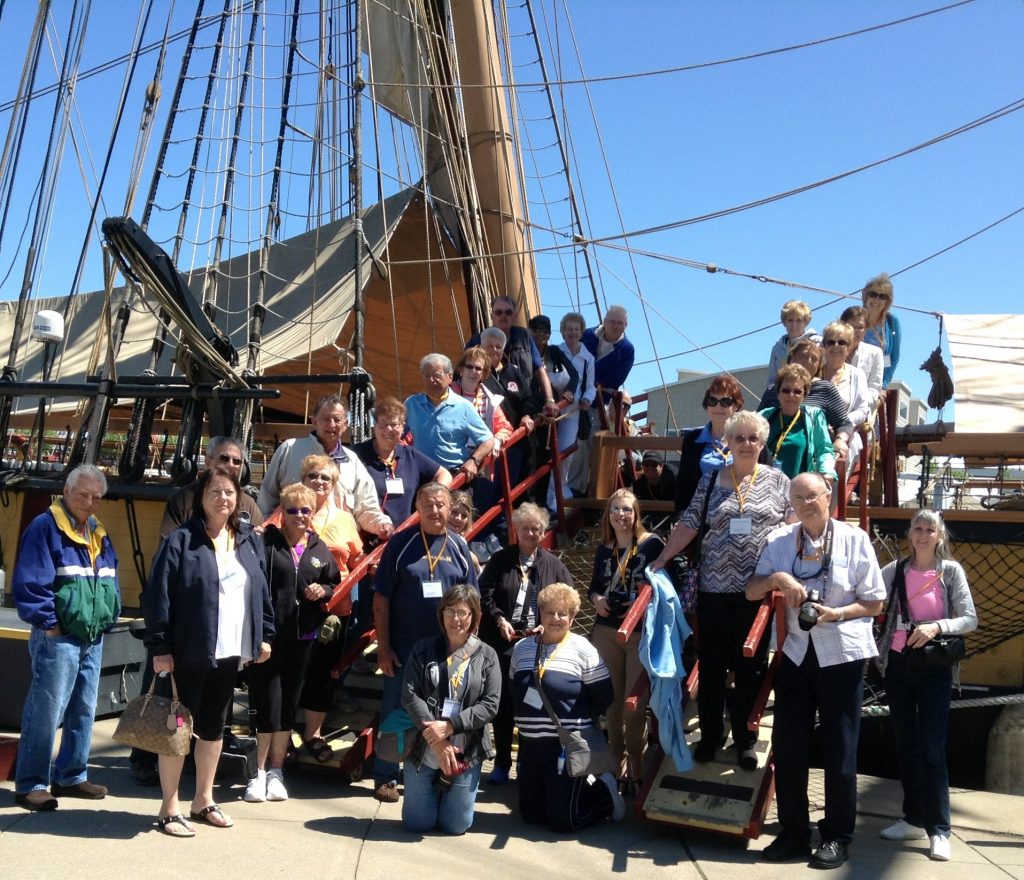 Nashville Show Trip
Legendary entertainment at the Grand Ole Opry, icons of country music's past and present, and much more highlight your group's Nashville bus trip with Diamond Tours. A guided tour of Nashville shows you such sights as the Parthenon and the Opryland Hotel, including a ride on the Delta River Flatboats inside the Opryland Hotel. Delve deeper into music history on this Nashville bus tour at the new $40 million Country Music Hall of Fame. Your tour also includes a visit to beautiful Belle Meade Plantation. Included in this Nashville vacation package, your group will experience the world-famous music of the Grand Ole Opry and a behind the scenes tour of this national treasure of country music.  Trip insurance prices vary depending on occupancy ($59 triple, $59 double and $69 single per person)  Please write a separate check payable to "Travel Insured International, Inc." or pay it online at www.travelconfident.com  Limited space available; don't wait to register!
Registration Deadline/Final Payment: TBD
Day/Date:      Monday, September 11 – 15
Depart:           8:00 am from the Founders Community Center
Return:           In the evening on September 15 (TBA)
Fee:                 $629/person – double occupancy
$799/person – single occupancy
$609/person – triple occupancy
* $75 deposit due upon signing
Click here to download the Nashville Show Trip Flyer.
Welcome to the Markets of  Summer
Green City Market
Chicago, IL
Join us as we visit the largest farmers' market in Chicago at Lincoln Park. This market features over 50 different vendors offering summer's finest produce, cheese, organic products and much more. Following browsing, we will enjoy lunch on our own at Rick Bayless' Xoxo Restaurant which is near the market. This authentic Mexican restaurant features traditional, made from scratch dishes which are prepared with a wood-burning oven in the kitchen. The aromas will make your mouth water!
Registration Deadline: May 31
Day/ Date:     Wednesday, June 14
Departure:     8:45 am from Founders  Community Center
Return:           3:45 pm (Approximately)
Fee:                 $44 (Fee includes transportation only.)
Emerson Creek Backroads Vintage Market
Oswego, IL
Travel with us to Emerson Creek to find lovely found and repurposed goods in their barn. The market is a vibrant vintage market curated with care. One-of-a-kind items like furniture, fashion, handmade and architectural salvage. We will have time to browse and shop upon our arrival and after lunch. We will dine in the Emerson Creek Tearoom which will feature a lunch selection of a soup, a ½ sandwich, salad, beverage and dessert.
Registration Deadline: June 21
Day/Date:      Wednesday, July 12
Departure:     8:45am  from Founders Community Center
Return:           3:45pm (Approximately)
Fee:                 $71 (Fee includes transportation and lunch.)
32nd Annual Strawberry Festival
Cedarburg, WI
Join us for a marvelous trip to Cedarburg, Wisconsin for their annual Strawberry Festival. There will be over 250 artists selling paintings, sculptures, ceramics, jewelry, fiber art, and more! You don't want to miss all of the strawberry goodies they will offer such as the "Hoffman's Original" strawberry brat, strawberry crepes, strawberry slush, chocolate-covered strawberries and so much more. Even if you are not a strawberry lover, there will be a variety of different food vendors to choose from. Enjoy Cedar Creek Winery's Strawberry Blush Wine and much more! On our way home we will stop at the Mar's Cheese Castle.
Registration Deadline: June 2
Day/Date:      Saturday, June 24
Departure:     8:30 am from Founders Community Center
Return:           8:30 pm (Approximately)
Fee:                 $47 (Fee includes motor coach transportation only)
Bristol Renaissance Faire
Kenosha, WI
Once you enter the portal gates, you travel back in time to the year 1574, and you've walked right into an exciting village festival day.  It's time to eat, drink and be merry!  Visitors can take a rollicking romp through Elizabethan England, complete with 16th Century games, rides, arts, crafts, food, music and one-of-a-kind encounters with a spectacular cast of characters. Nearly 200 artisans display their wares in the Bristol Faire Marketplace. Potters, glass blowers, jewelers and forgers busily go about their work, as shoppers discover rare finds around every corner. The Faire boasts a beautiful 30-acre site with open-air stages featuring Swordfighters, Minstrels and Jesters. Meet Robin Hood or Queen Elizabeth, in person! At the Bristol Renaissance Faire, everyday recreates a time when knights were noble and maids were merry!
Registration Deadline:  June 20
Day/Date:      Saturday, July 15
Departure:     10:30 am from Founders Community Center
Return:           6:30 pm (Approximately)
Fee:                 $65 (Fee includes transportation and admission)
Chicago White Sox
Chicago, IL
Join us for an afternoon of food, fun, bingo and great Chicago baseball when our Chicago White Sox host the Toronto Blue Jays. Enjoy a full day at the ballpark that includes a 1-hour pre-game, all-you-can-eat buffet, bingo in the patio area and a lower-level game ticket. The buffet features Cajun chicken, fried chicken, hot dogs, ribs, hamburgers, salads, unlimited beer, wine and soft drinks. Tickets are limited so don't delay in registering.
Registration Deadline:  May 15
Day/Date:      Wednesday, August 2
Departure:     10:15 am  from Founders Community Center
Return:           5:15 pm (Approximately)
Fee:                 $76 (Fee includes lunch buffet with beverages, bingo, lower corner game ticket and transportation.)
Chalk the Block & Wine Tasting
St. Joseph, Michigan
The Chalk the Block event brings in regional artists who create chalk masterpieces downtown on Broad Street.  Various professional chalk artists are coming in from across the country to participate in this event. Event goers can also vote for their favorite artist renderings in the People's Choice vote.  Chalk art isn't the only sidewalk entertainment planned. City merchants will showcase sales merchandise outside and local organizations will hold special events such as heritage walking tours, a farmers market, Antiques on the Bluff and free, horse-drawn trolley rides around this Victorian-era town.  Following the event, we will make a stop to the Lemon Creek Winery for wine tasting.
Registration Deadline:  July 10
Day/Date:      Saturday, August 5
Departure:     8:45 am from Founders Community Center
Return:           5:15 pm (Approximately)
Fee:                 $55 (Fee includes transportation and wine tasting)
Wisconsin State Fair
Milwaukee, WI
The Wisconsin State Fair draws more than one million visitors each year who revel in tradition and are drawn to exciting attractions like the Giant Slide, Sky Glider, Daily Parade and more.  Visitors can see hundreds of animals in numerous barns throughout Ag Village, as well as educational exhibits in the Farm & Family Building and the Badgerland Financial Discovery Barnyard.  The Horticulture, Craft & Culinary Pavilion is an oasis where fairgoers will enjoy beautiful bonsais, orchids, dahlias and gladiolus along with a myriad of vegetables, textiles, canned goods, pies, cakes and more.  It's also a shopper's paradise, with hundreds of vendors located in the Wisconsin Exposition Center and several other marketplaces throughout the Fair Park.
Registration Deadline:  July 15
Day/Date:      Tuesday, August 8
Departure:     9:00 am from Founders Community Center
Return:           7:30 pm (Approximately)
Fee:                 $55 (Fee includes transportation and admission)
Sandwich Fair
Sandwich, IL
We will travel for the first time to one of our state's truly American Fairs. This fair offers a variety of live entertainment, great food, culinary competitions, arts and crafts and more. While you are there, you are sure to find some amazing food to purchase for lunch. Note we will be visiting the fair on "Senior Citizen Bargain Day" receiving a reduced entrance fee! Space is limited so register today.
Registration Deadline:  August 10
Day/Date:      Thursday, September 7
Departure:     9:15am from Founders Community Center
Return:           4:15pm (Approximately)
Fee:                 $47 (Fee includes transportation and admission.)
Pacific Northwest By Rail – Mayflower Tours
Enjoy an adventure you will never forget! The itinerary is varied, exciting and fun, Travel cross country aboard the Amtrak's California Zephyr to San Francisco and home from Seattle aboard the Empire Builder. Your adventure includes the Golden Gate Bridge, Fisherman's wharf, wine tasting, and Redwood National Park. The excitement continues when you experience a Jet boat excursion on the Rouge River, enjoy the four wheel drive by dune buggy, through Oregon National recreational area. Visit the Oregon coast with stops at the Tillamook Cheese Factory and Yaquina Lighthouse, and enjoy a guided tour of Portland-Historic District. And International Rose Test Gardens. Then On to the Columbia River Gorge, Mt Rainer National Park and visit Mt St Helens visitor's center and ride the Mt Rainer Scenic Railway, Your guided tour of Seattle including Pike Place Market and Seattle's Museum of Flight. This will be a Trip of a Life Time and you will want to share your memories with family and friends.  Don't forget Mayflower Tours offers FREE Home pick up and Special Savings for the Frankfort Park District!  Call for Details!
Dates:              Departs July 7 – 19, 2018
Fee:                  $3,149 Double Occupancy
Single Occupancy add additional cost: add $889
$400 deposit due at time of registration, plus cancellation insurance.
Departure:       Mayflower Tours will pick up each individual from their home. Travelers will be notified of specific time 3 weeks before the trip.
Final Payment:90 Days prior to departure.
To learn more about this trip, join us for an informational seminar on Monday, May 22 at the Founders Community Center at 6:30 pm.  Please call the Park District office at 815-469-9400 to reserve your spot!