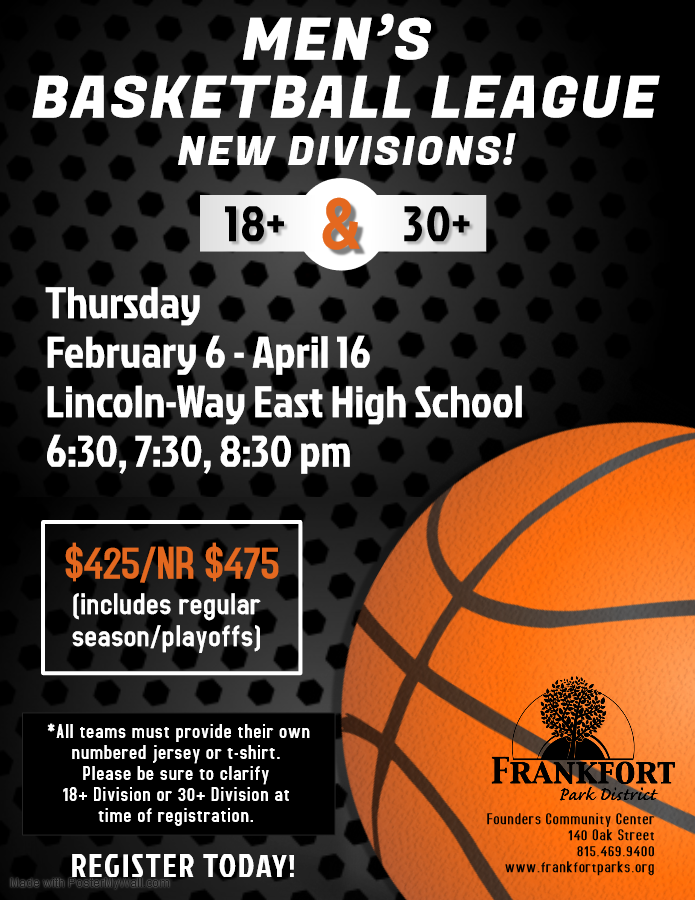 ---
MEN'S BASKETBALL LEAGUE   NEW DIVISIONS!
Sign up now for this exciting league.  Team registrations only, no individual sign-ups.
The league will consist of two divisions 18+ and 30+. Games will consist of (2) twenty-minute halves (running clock). League fee includes gym usage, referee fee, and Prize Money! Each team is guaranteed 8 games.  Rosters are limited to 10 players per team. Grab your buddies; it will be a slam dunk! Please be sure to clarify 18+ or 30+ divisions at your time of registration.
*All teams must provide their own numbered jersey or t-shirt.
Please be sure to clarify 18+ Division or 30+ Division at your time of registration.

Thursday
February 6 – April 16
6:30, 7:30, 8:30 pm
Lincoln Way East High School
$450/NR $500 (includes regular season/playoffs)
---
Current League Schedule & Standings
Click here to access the Winter 2020 league schedule & standings
---
League Roster Waiver
Click here to download the League Roster Waiver Form.
All Players are Required to Sign this Form
---
Rules
Click here for a list of the League Rules.
---