Indoor Flag Football League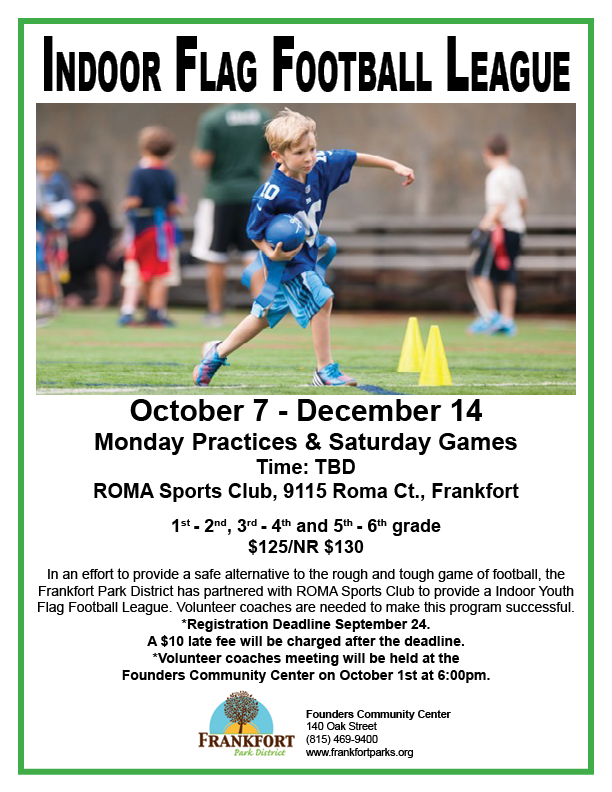 Program Information
In an effort to provide a safe alternative to the rough and tough game of football, the Frankfort Park District has partnered with ROMA Sports Club to provide boys youth Flag Football League indoors. Volunteer coaches are needed to make this program successful.
*Registration Deadline September 24. A $10 late fee will be charged after the deadline.
Location:      ROMA Sports Club 9115 Roma Ct, Frankfort
Day:               Monday Practices & Saturday Games
Date:             October 7 – December 14
Times:          TBA
Grade:          1st-2nd, 3rd-4th and 5th-6th grade
Fee:               $125/NR $130
---
Registration Guidelines
Registration for the Indoor Flag Football League is now available online as well as in person at the Founders Community Center. For questions please contact the Frankfort Park District at 815-469-9400.
*When registering online, patrons will pay a convenience fee to process registrations. Sibling discounts are not available with online registration.
---
Team Sideline
The Frankfort Park District is using TeamSideline to manage the Youth Basketball League teams this season. This means each Frankfort Park District Youth Basketball League team has its own TeamSideline Team Site – and each Team Site will include the Coach information and roster of players. Dates, times and locations for practices and games are also added as soon as they are available to be published. Please be sure to add no-reply@teamsideline.com to your approved senders' list on your email to avoid communication issues
If you would like to receive text alerts for league schedule updates and weather cancelations please follow the link below.
Team Sideline Text Alert Signup
Click Here to create your Team Sideline account.
---
Volunteer Coaches
Thank You to all of the Fall 2019 Indoor Flag Football League Volunteers.
---
League Schedules:
Click Here to access the 1st – 2nd Grade Schedule
Click Here to access the 3rd-4th Grade Schedule
Click Here to access the 5th-6th Grade Schedule
---
League Rules
Click Here to download league rules
---
League Survey
Click Here to access the post-season evaluation survey
---