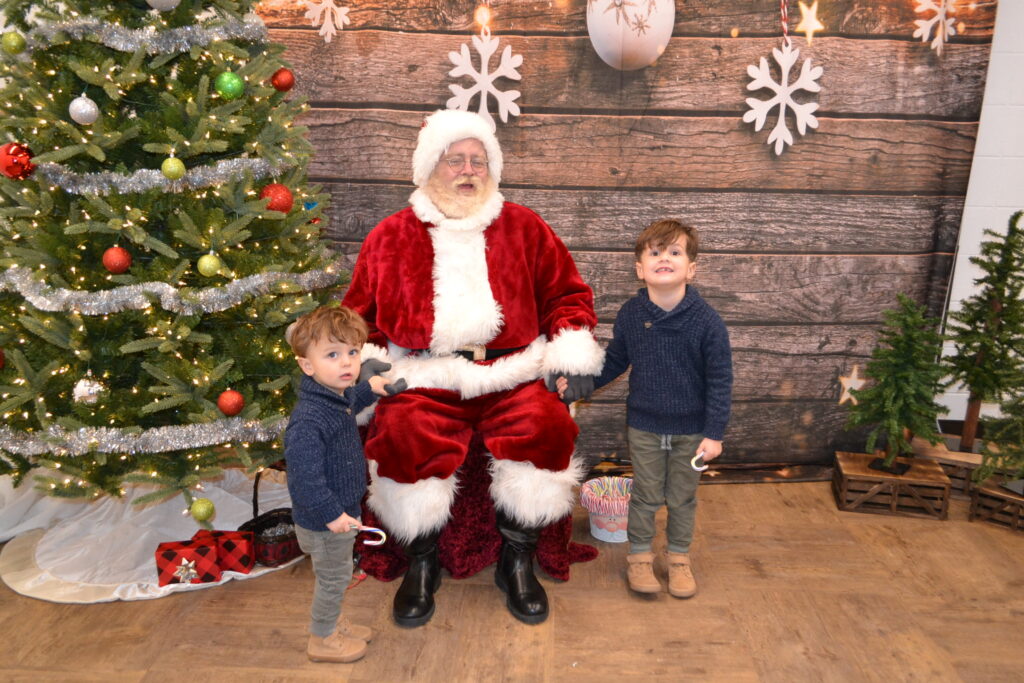 ---
Letters to Santa
Due Date: December 1 by 5:00 pm
Park District Residents Only
Starting November 21, Santa's mailbox will be displayed at the Founders Community Center.  Santa will personally write to each family who writes him a letter, provided that all letters are received by 5:00 pm on Thursday, December 1.  Santa can only send letters to children who include the following: child's full name, address, city, zip code and of course, their wish list!  Parents, please complete checklist when sending the letter.  Checklists will be available at the main office or on the Park District website.
Please address letters to:
Santa Claus
25 Candy Cane Lane
North Pole
c/o Frankfort Park District, 140 Oak Street, Frankfort, IL 60423
---
Santa Photos & Workshop –

FILLED
Saturday, December 10
Founders Community Center – 140 Oak Street
Session I: 11:30 am – 12:00 pm – FILLED
Session II: 12:00 – 12:30 pm – FILLED
Session III: 12:30 – 1:00 pm – FILLED
All Ages
$7/NR $12 per child
Santa is making a special appearance at the Founders Community Center. There will be crafts, holiday themed games and a chance to visit with Santa.  Remember to bring your cameras.  There are three time slots available, please specify time on registration form.
Registration Deadline: December 7 or until filled
---
Paws with Claus
Saturday, December 10
1:15 – 1:45 pm
Founders Community Center – 140 Oak Street
All
$2 per dog family
Bring your friendly family pet and your camera for a holiday photo opportunity with Santa Claus.  All pets MUST be on a leash.  Please bring a pet item to be donated to Cache Creek Animal Rescue. 
No registration required.
---
Deck the Paws Holiday Photo Contest
Frankfort Park District Facebook Page
Deadline: Photo submission – December 16
Voting: December 19 – 21
Show us a picture of your furry family member showing off their holiday spirit!  To enter, simply email your photo to info@frankfortparks.org. Be sure to include your names (both yours and your pet), your email address and your phone number. Once your photo is received, we will post it to the Frankfort Park District's Facebook Contest Photo Album (within 72 hours) and email you a confirmation.  Once you have received the confirmation email, tag your photo in the album, share it, and encourage your family and friends to vote. The photo that receives the most "likes" will win a prize. Come join the holiday fun!
---
The Polar Express Storytime Train –

FILLED



Sunday, December 11
# 1 Time: Train departs at 9:30 am sharp – FILLED
# 2 Time: Train departs at 11:20 am sharp – FILLED
Hickory Creek Metra Station
9430 Hickory Creek Drive, Mokena
All Ages
$18 Frankfort Park District Residents Only
$23 Non-Residents (if tickets are still available after resident registration)
ALL ABOARD…The Frankfort Park District would like to invite children and their parents to take this special train ride to the "North Pole".  On the way to the "North Pole," Santa's elves will be busy making balloon animals while you enjoy listening to the "Polar Express" story.  When we reach the "North Pole", we will find Santa Claus and bring him back with us on the train to the Hickory Creek Metra Station.  Enjoy holiday cookies and music on our way home.  A parent or guardian must accompany all children.  Due to the popularity of this event, a maximum of six tickets per household are available to purchase at time of registration.
FRANKFORT PARK DISTRICT RESIDENTS ONLY
Frankfort Park District Boundary Resident Only Lottery Registration – Registration is CLOSED
Special Registration forms will be accepted at the Founders Community Center office from November 1 – 9.  All forms are due by November 9 at 4:00 pm. Forms will be available on our website beginning November 1. All forms will be processed on November 10 and families will be notified.  Tickets will be available for pick-up at the main office.
---
New Year's Countdown
Friday, December 30
11:00 am – 12:30 pm
Founders Community Center – 140 Oak Street
4 – 10 years
$9/NR $14
Kids, get ready to countdown to 2023!!!  Celebrate New Year's Eve with dancing, party games, crafts and ice cream.  There will be a "Countdown to 2023" balloon drop at noon to celebrate the New Year!
Registration Deadline: December 27 or until filled
---
2022 Volunteer Opportunities:
Click on the Event name to Sign-up Online for Volunteer Opportunities:
Santa Photos & Workshop – Saturday, December 10 / 11:00 am – 1:30 pm / Founders Community Center
Nerf Wars Tournament – Wednesday, December 28 / 12:15-3:15 pm / Founders Community Center Gym
New Year's Countdown – Friday, December 30 / 10:45 am – 12:45 pm / Founders Community Center