Lincolnway Special Recreation Association
Winter 2023 Program Guide is Now Available!
Virtual & In-Person Programs: Another exciting season of virtual & in-person programs is just around the corner!
You must complete a 2022 Annual Information Form in CommunityPass prior to registering.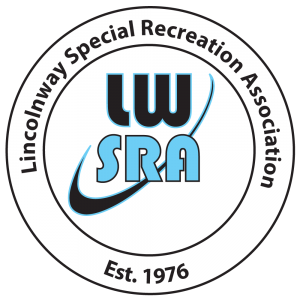 Lincolnway Special Recreation Association (LWSRA) has been providing adaptive recreation opportunities for individuals with disabilities through a cooperative agreement with Frankfort, Manhattan, Mokena, New Lenox and Peotone Park Districts for over 34 years. Being a member of a special recreation association, each park district is able to levy special recreation funds to financially support LWSRA and the Americans with Disabilities Act (ADA). A variety of recreation-based activities are offered year-round for between 160 and 230 children and adults with disabilities, including services such as day camps, trips, Special Olympics, after-school programs, social programs, Paralympics sports, a fitness program for veterans with a disability and many other opportunities. Day-by-Day, a day program for adults with disabilities, is available four days a week.  These programs significantly heighten participants' health, well-being, and quality of life. Transportation is provided for many activities in an LWSRA paratransit bus.
Programs are developed with the intention of eliminating any leisure barriers and to facilitate the participants in developing a balance of leisure and socialization skills, provide recreation resources and opportunities and promote knowledge and independence.
Through the cooperative agreements with the park districts and other organizations, LWSRA is able to serve children and adults, in the five park district area and surrounding suburban communities, with learning disabilities, physical impairments, cognitive disabilities, behavior problems, visual impairments, autism, multiple challenges and other special needs. All ages, ethnicities and income levels are welcomed by a friendly, well-trained staff. Inclusion aides are provided for those who find it may be a good fit to participate, with assistance, in a regular park district program. Scholarships are available for residents needing financial support to participate.
LWSRA has provided adaptive recreation opportunities for individuals with disabilities since 1976. LWSRA is supported through a cooperative agreement with Frankfort, Manhattan, Mokena, New Lenox, Peotone and Wilmington Island Park Districts.
LWSRA offers a wide variety of social recreation programs, athletic activities, and special events for individuals from preschool through adult who have disabilities and whose recreational needs are not met by regular park district programs including:
Age based programming offered (youth, teens, and adults):
Social events (dances, game nights, bowling, etc.)
Special events (trips, musicals, sporting events, etc.)
Adapted Sports (wheelchair basketball, softball, boccia, etc.)
Special Olympics (basketball, volleyball, track & field, swimming, softball, golf, etc.)
Sports, Fitness & Aquatics (swim lessons, strength & conditioning)
Adult day program (TITANS) year-round for ages 18+
Summer Camps (ages 3-12 split day options for those in summer school and for 13-18 full day option for Teen camp)
For more information or to request a brochure, visit www.lwsra.org or visit the Lincolnway Special Recreation Center, located at 1900 Heather Glen Drive in New Lenox, call 815-320-3500.
Office hours are Monday – Friday, 9:00 am – 5:00 pm.
LWSRA Upcoming Events & Promotions
LWSRA 40th Anniversary Video
To view the LWSRA 40th Anniversary Video please click the Link below.