Ice Rink @ Main Park

Update as of Thursday, November 21 2019
Park District staff have installed the ice rink boards. When the weather forecast looks favorable to make ice, staff will lay the liners and then the water will be added to the rink. Overnight temperatures need to be below freezing for a period of 3-5 days to start the ice process. We appreciate your patience during the waiting process.
Skating and/or walking on ice when it is not fully frozen leaves holes and large cracks in the ice. This creates a need to add additional water delaying the availability of the ice. Your cooperation in staying off the rinks until they are open is appreciated.
The Ice Rink at Main Park:
When the rink is open, skating is dawn until 9:00 pm, Monday-Saturday and until 8:00 pm on Sunday.

Outdoor winter recreation is subject to weather conditions. If conditions are unsafe, skating rink will be closed until they become safe again.

Rink will not be cleared during snowfall, but when snowfall stops.

In cases of heavy snowfall, rink may not be cleared.

Skate at your own risk.

Please check back for updates by visiting our Facebook page, check our website or by calling the Park District office at 815.469.9400.
LIGHTS – This year there is a timer switch for the ice rink lights. To utilize the lights for the ice rink, skaters can turn on the timer switch that is located on the shelter by the ice rink. The lights are available from 4:00 pm – 9:00 pm.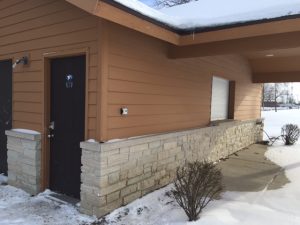 Timer Switch button is located on the Shelter by the Ice Rink.
Ice Rink
Ice Rink will be open at Main Park this winter for skating! (when the weather permits)
The rink will open when the ice is ready and safe (when the weather permits).
Ice Rink Days/Hours of Operation:
| | |
| --- | --- |
| Monday – Saturday: | 7:00 am – 9:00 pm |
| Sunday: | 7:00 am – 8:00 pm |
Rentals:
SKATE RENTAL – During office hours, ice skates are available for rental at the Founders Community Center, 140 Oak Street, call for availability of sizes.
Skate rentals are $5/week with a $25 refundable deposit.
You must provide a credit card or cash deposit for the skate rental.
| | |
| --- | --- |
| Ice Skates: | $5/pair for 1-week* |
* Ice Skate sizes and quantities are limited.
Sled Hill at Commissioners Park
The Sled Hill located at Commissioners Park – 22108 S. 80th Avenue.
When it snows, grab your sled and head over to Commissioners Park. The Sled Hill will be open daily until 9:00 pm. (weather permitting)