Ice Rink @ Main Park – CLOSED for the season!

Update as of  Monday, February 24, 2020
The Ice Rink at Main Park:
Given the recent changes in weather, the ice rink is CLOSED for the season.
Thank you for cooperation during the season.
The Ice Rink at Main Park:
At this time the District has not determined if the second rink will be completed. The fluctuation of unseasonable warm temperatures had shortened the skating season.

When the rink is open, skating is dawn until 9:00 pm. Lights are available between 4:00-9:00 pm.

Lights can be powered on by hitting the button on the building located near the parking lot.

Skate are your own risk.

Outdoor winter recreation is subject to weather conditions. If conditions are unsafe, skating rink will be closed until they become safe again.

Rink will not be cleared during snowfall, but when snowfall stops. In cases of heavy snowfall, rink may not be cleared.

Please check back for updates by visiting our Facebook page, check our website or by calling the Park District office at 815-469-9400.
LIGHTS – This year there is a timer switch for the ice rink lights. To utilize the lights for the ice rink, skaters can turn on the timer switch that is located on the shelter by the ice rink. The lights are available from 4:00 pm – 9:00 pm.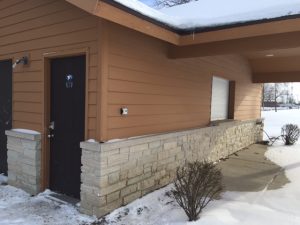 Timer Switch button is located on the Shelter by the Ice Rink.
Ice Rink
Ice Rink will be open at Main Park this winter for skating! (when the weather permits)
The rink will open when the ice is ready and safe (when the weather permits).
Ice Rink Days/Hours of Operation:
| | |
| --- | --- |
| Monday – Saturday: | 7:00 am – 9:00 pm |
| Sunday: | 7:00 am – 8:00 pm |
Rentals:
SKATE RENTAL – During office hours, ice skates are available for rental at the Founders Community Center, 140 Oak Street, call for availability of sizes.
Skate rentals are $5/week with a $25 refundable deposit.
You must provide a credit card or cash deposit for the skate rental.
| | |
| --- | --- |
| Ice Skates: | $5/pair for 1-week* |
* Ice Skate sizes and quantities are limited.
Sled Hill at Commissioners Park
The Sled Hill located at Commissioners Park – 22108 S. 80th Avenue.
When it snows, grab your sled and head over to Commissioners Park. The Sled Hill will be open daily until 9:00 pm. (weather permitting)