Frankfort Park District supports and maintains more than 260 acres of parkland and offers a community center, 13 baseball fields, 14 softball fields, 15 soccer fields, two baseball fields, four tennis courts, 17 playgrounds, seven picnic shelters, seven bike trails, two volleyball courts, a sled hill, two skate parks, a splash pad and an award-winning dog park.
Rising inflation, mandated increases in minimum wage, the challenges of a competitive job market, and sustained increases in fuel costs have made it increasingly difficult for the district to achieve the high level of maintenance and quality that Frankfort residents deserve.
Frankfort Park District – one of the lowest funded park districts in the area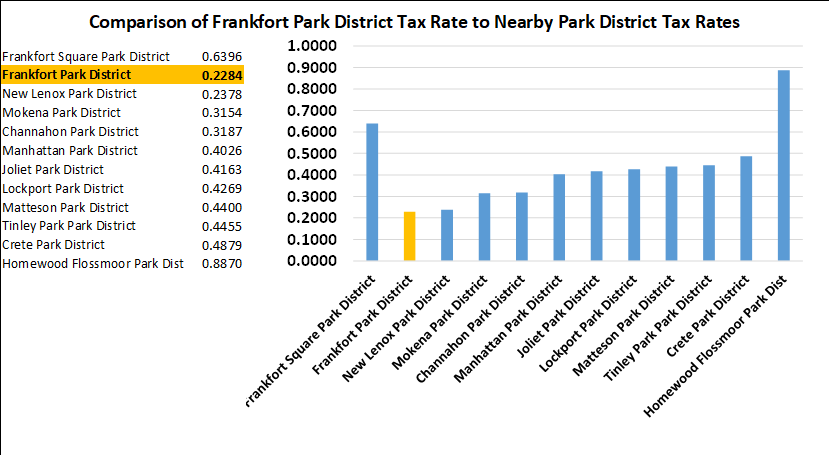 Increasing the tax rate from .228 to .2859 would provide an additional $969,655 annually for park and facility maintenance, improvements, and capital projects like playground replacement.
On November 8, Frankfort residents will determine the level of funding and services they wish to see from their park district.
The Frankfort Park District board and staff conducted polling and research to gauge the level of support for additional park funding. Results from the survey guided the board in placing a Park Preservation Referendum Question on the November Ballot that asks residents if they wish to increase the limiting rate by 0.112% to achieve a 0.2859 tax rate.
For residents with a $400,000 home, this would result in an increased investment of $12.44 per month (or $149.32 annually) in park and recreational infrastructure.
If residents choose to invest additional resources and the referendum passes
The park district will be able to maintain the current level of recreational programming and increase the level of service and maintenance in your parks and facilities. Residents can anticipate seeing:
Increased pond maintenance including management of invasive plants species and shoreline stabilization.
Improved maintenance of existing parks including landscape beds and park trees and weed control.
The replacement and repairs of asphalt pathways and parking lots throughout the Park District.
Replacement of playgrounds including Timbers Edge, Windy Hill and Butternut.
Facility roof replacements including the Founders Room Roof and common areas.
Comprehensive planning for replacement of Fort Frankfort estimated to cost $800,000.
Critical plumbing, heating and ventilation updates and repairs.
If the referendum does not pass
The park district will reduce non-essential maintenance and free community events to address funding of critical infrastructure needs.  This includes:
Reducing the frequency of mowing in neighborhood parks.
Delaying playground replacement from 20 to 25+ years.
Reducing or eliminating free special events including 4th of July Fireworks.